In September last year, money was promised due to the huge consequences of the coronavirus, frost, and drought. So it was transferred to this year. And the budget was not adopted. The game of cat and mouse goes on.
In the proposal of the budget of the FBiH for this year, 19 million KM more was allocated for agriculture compared to the year before.
The Federal Minister of Agriculture, Water Management and Forestry, Šemsudin Dedić, emphasised these in the last days of February in Mostar and added that together with the budgets of municipalities and cantons, over 160 million KM will go to farmers.
If anyone had believed this news, we believe farmers would have taken to the streets. And not to protest, but to celebrate the record amounts they will finally get. But, betrayed and deceived, they kept silent about this "great news".
Minister "Promise"
 In September last year, Minister Dedić, who farmers jokingly call "Minister Promise", informed farmers that the Government of the Federation of BiH would allocate 15 million in agricultural aid, due to huge consequences caused in part by the coronavirus pandemic, drought, and last year's frosts.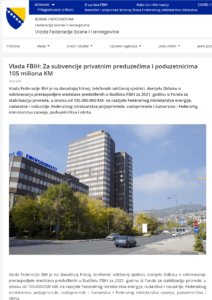 This was confirmed by the Federal Government, and on its official website on September 20, it announced that at an emergency telephone session it passed a Decision approving the redistribution of funds provided in the FBiH Budget for 2021 from the Stabilization Fund, in the amount of 105,000,000 KM. to the Ministry of Energy, Agriculture and Development, or Entrepreneurship.
According to that decision, 15 million KM was cut to the Ministry of Agriculture (incentives for agriculture).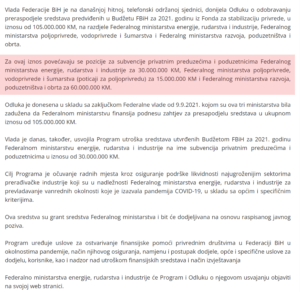 But to date, not a single KM has reached the account of farmers. And out of 15 million, only the nickname of Minister Dedić remained – Promise.
We are in agony
In the meantime, the Minister, together with loyal associates, assistants, and advisors, allocated as much as 90 million (of our) money to private companies that promised during the pandemic that they would not, but they did lay off workers. The auditors warned about this illegality. But to no avail. Unless we count on the Minister and his associates attacking the federal auditors and indirectly saying that they trust only their own, ie internal audits.
As time went on, it was clear that out of those 15 promised millions, nothing will happen for a long time (if ever). It got stuck in procedures, the law, different views on how to divide the money.
Craftsmen in agriculture received their 45 million on time, but producers in the primary and food industries are still waiting. And they admit they are losing hope.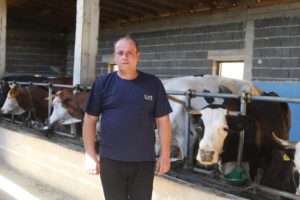 – From September to December, meetings were held with the Federal Minister and three representative associations – the Association of Agricultural Producers, the Association of Farmers, and the Peasants' Union. We were looking for models on how to implement those 15 promised millions. But then we were told that it will not be easy, because it is not according to the Law on Financial Support – he says for Interview. ba Admir Kahriman from the Association of Agricultural Producers.
He explains that the meeting was at the end of December, that it was already clear that the budget year was coming to an end.
– The only variant was the one offered by Minister Dedić to put those 15 million in the position of capital investments. But we did not reach an agreement and then it was decided that the payments be made to crafts in agriculture. And for agriculture, it was decided that there are no legal acts for redistribution and it was returned to the Government. Provided that these funds are planned in this year's budget for agriculture. That is foreseen in the draft budget for this year – Kahriman explains.
Personally, as he tells us, it may be a better version because those 15 million per 24,000 employees would be a symbolic amount.
He also says that he is optimistic and that he believes that this year, through an increase in the budget in the Ministry of Agriculture, he will get that money.
– Last year was 29 pfennigs per liter of milk, 400 KM per fattening … I can expect this year, we have an increase in the budget based on those unused funds, we can expect 35 pfennigs for milk, 500 for fattening and so on. As far as I understand the Government and the conclusion of the Government, it is not clear to anyone yet, but it is so – adds Kahriman.
When asked if he feels cheated, he says:
– I feel cheated if I look at global agricultural production because only crafts have received help, but not everyone else who can get support. We do not have it because the budget has not been adopted. We are in agony, we know we will not get the funds we need to get. We know we lost time. We have neither a budget nor a support program. We only have strong promises when they appear in front of the cameras that everyone brags about supporting agriculture, and we do not have money available for procedures – he adds.
Unanswered questions
 Representatives of the federal parliament – SDP's Irfan Čengić and Sanela Klarić from Naša stranka – tried to solve the problem. They both warned that the government, and in particular Minister Dedić, were playing with farmers.
Čengić sent a parliamentary question in which he asked Dedić to provide detailed information on why 15 million KM, which were provided and intended to help agricultural production at the 280th session of the FBiH Government held on September 9, 2021, was not realized.
– In this time of difficult conditions for agriculture, taking away 15 million from farmers is inadmissible. It is a direct threat to the existence of thousands of people who are connected to agricultural production – Čengić pointed out.
He warned that there is currently no agricultural strategy, about which he had previously sought official answers together with his colleague Sanela Klarić. He considers it wrong that they distributed hundreds of millions of KM without a legally valid strategy.
– The strategy in accordance with Article 5 of the Law on Agriculture is adopted by the FBiH Parliament for a maximum period of five years. The strategy expired in 2019, the Parliament did not adopt a new one, and the Government is extending the expired strategy with illegal conclusions, even though the Parliament does not have the authority to do so – Čengić added.
He warned of the absurdity that only a draft strategy for agriculture and rural development for the period 2021-2027 is being drafted this year. It has been 3 years and we have not had a strategy, but we are working outside the legal framework.
He did not receive an answer, as he told us.
Sanela Klarić warned that we are facing spring sowing, rising prices that threaten the normal functioning of life, but also the fact that not helping farmers and ignoring their problems can cause unforeseeable consequences for the entire food production process in FBiH.
– For this reason, I am asking for urgent action in the direction of making unallocated funds from 2021 available to farmers in FBiH – said Klarić.
After these appeals, there was a long silence, so these days the Ministry of Agriculture finally took pity on them and decided to address the public together with the farmers.
Instead of the Minister, we heard his advisor Husnija Kudić, then Ahmed Džubur, President of the Committee on Agriculture, Water Management and Forestry of the House of Representatives of the FBiH Parliament, and representatives of farmers. They jointly requested an emergency thematic session to discuss the current situation in agriculture.
Not a word about 15 million.
In the meantime, farmers also wrote.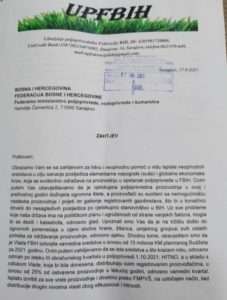 – We demand that the funds be distributed as soon as possible, in accordance with the Government Decision, which was passed, to all registered producers in the amount of 25% of the realized production in the current year. It was noted that this is an URGENT and necessary measure aimed at saving production, preparations for autumn sowing, procurement of fodder and represents the last chance for the survival of producers – said in a letter sent by farmers to the Minister in September last year.
They never got an answer, not even when they asked several times where the promised 15 million was.
– If you as journalists can't track down where those millions are, how can we. And if you know in advance, you will get very complicated answers. It is as if it was transferred to the budget for this year because it was impossible to divide it – Nedzad Bićo, president of the FBiH Farmers' Association, warned us.
He points out that the farmers were satisfied that after the coronavirus, frost, and drought, they got even so much.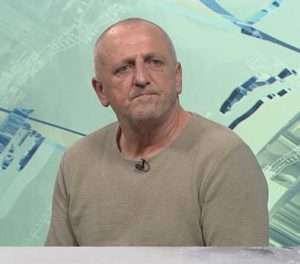 – We waited for the payment, got some explanation and in the end we lost track of that money. We also asked when the craftsmen got it in record time, but that's not right. You have cooperatives that are not crafts, companies, which are primary agricultural producers. Since the deadline has passed, hand on heart, I am not optimistic that I will get that money – Bićo tells us.
Farmers, he adds, no longer believe in unconvincing answers. And promises that everything will be fine when the budget is adopted.
– I don't know what to tell you. Shame. We expected the budget to be adopted. Last year showed the problems of agriculture, with late frosts when fruits and vegetables were destroyed, so the drought came, where cereals were destroyed. Everyone is responsible for this, the Minister and the entire Government. They don't live on another planet, they saw what was happening. And everything is more expensive – from fuel, mineral fertilizers, concentrates. New prices every day. We pay 2.70 for fuel as if you were driving a tractor on the highway. All this should have been thought about earlier. It's like talking to a wall. The whole world was talking about food, only we stayed silent – Bićo emphasizes.
He adds that if the special problem is that we do not even have a strategy, but we are guided by the one from 2 years ago, which is no longer valid.
– Nobody has a vision, a mind, they deal with things that are in their interest. And we are wrestling to protect domestic production. One cannot understand that we have made a verisimilitude out of cash. You have land, water, hard-working people… They found money to help and rehabilitate thieves in hospitals, and you are not able to do that here – concludes Bićo.
And the new strategy?
 Minister Dedić, on the other hand, says that the goal of the new strategy is to improve the system of direct payments, create a better balance between direct payments and support the competitiveness of agricultural farms, additionally point out ways to improve institutional structure and action, given the current irrational and uncoordinated implementation of support measures ".
Behind these complicated, mostly rewritten big words, there is no answer to the question – and when will we get a new strategy.
The last two months have been mostly focused on walking "on the field", and well-informed people say that he has started an active election campaign, because he wants to keep his existing functions or even go "higher level".
During breaks from difficult talks with farmers, who are really in a desperate situation, he found a reason to open a sports hall in Krajina, in the Bihać settlement of Orašac, together with SDA President Bakir Izetbegović last year, during the greatest droughts.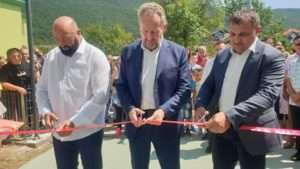 At the beginning of March in Odžak, he informed the representatives of the milling industry that at the last session of the Government, the Federal Directorate of Commodity Reserves was in charge of preparing a decision to allocate 50 liters of fuel per hectare of arable land to save agriculture.
If it is a strategy, then too much paper is spent writing about all the senseless feats of the minister and his ministry.